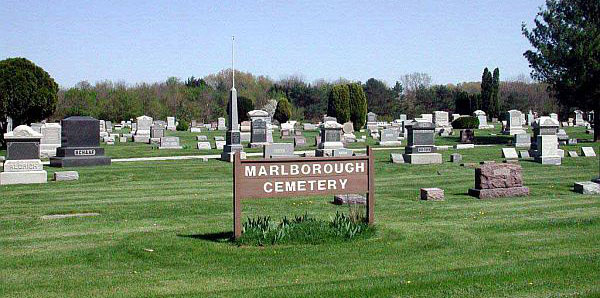 ---
Troy Township Cemeteries
Pleasant Hill Cemetery
1601 Kelly McMaster Road, Delaware, Ohio 43015
Troy Chapel Cemetery
Next to the Troy Township Hall at 4293 U.S. Route 23 North, Delaware, Ohio 43015
Marlborough Cemetery
5270 Horseshoe Road, Delaware, Ohio 43015
Download a map of Marlborough Cemetery by clicking here
---
Troy Township is responsible for maintaining these three cemeteries. The following are the prices for interments for Marlborough Cemetery, effective January 1, 2018.
| | |
| --- | --- |
| Open/close weekdays | $500.00 |
| Open/close weekends/holidays | $700.00 |
| Cremation weekdays | $200.00 |
| Cremation weekends/holidays | $300.00 |
| Double urn cremation weekdays | $300.00 |
| Double urn cremation weekdays/holidays | $400.00 |
The charge for footers will be .90 cents per square inch, with a minimum charge of $350.00.
Lots in Marlborough Cemetery will be sold to township residents at a rate of $250 per grave and for non-residents at a rate of $800 per grave.
The cost for exhuming a grave will be $1,000 for a child or infant and $100 for a cremation.
If you have any questions, please contact Mark Malcom , Cemetery Sexton, 740-369-9019.
Note: Rates are subject to change by Troy Township Trustees. Please confirm above rates with Cemetery Sexton.
---
Cemetery Regulations
Cemetery hours are dawn to dusk.
No new planting of trees, shrubs, or roses, etc.
All artificial plants, flowers, and decorations to be removed by April 25.
All flowers, live or artificial, plantings and decorations to be within 8" of the monument, including potted plants.
Live flowers and plants must be maintained (weeded, etc.).
All foundations must be installed by the Trustees or their agent.
Violations of these regulations are subject to removal with no compensation.
Neither the Trustees nor the cemetery is responsible for theft or damage to items placed at grave sites.