World-class recreation, shopping, dining and family fun—all in one beautiful, affordable and easily accessible location. We are delighted to welcome you to our home!
Delaware County, Ohio—it's where you should be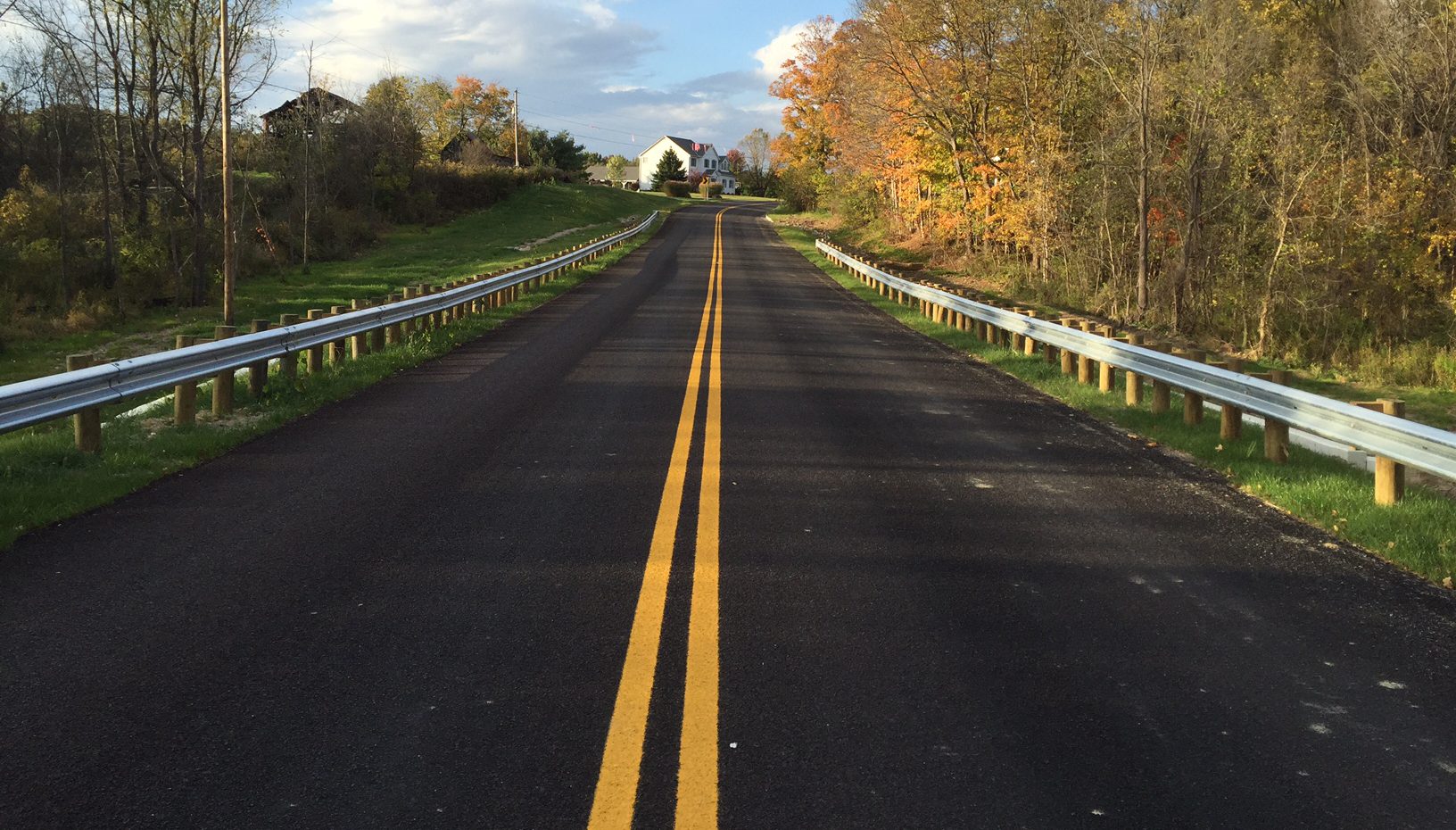 ---
What We're Known For: Recreation and Sports
In Delaware County, we know how to get up off the couch and get the blood pumping (there's a reason we've been named "The Healthiest County in Ohio" seven years running and ranked as the No. 9 healthiest county in the U.S.). Delaware County offers outstanding experiences in a wide range of recreation and sports activities, whether it's golf (watch the pros at The Memorial Tournament or pretend to be a pro on one of our many golf courses), kayaking and canoeing on the Olentangy River, hiking in one of our state or local parks, cycling past cornfields, visiting the polar bears at the Columbus Zoo, or flooming at Zoombezi Bay!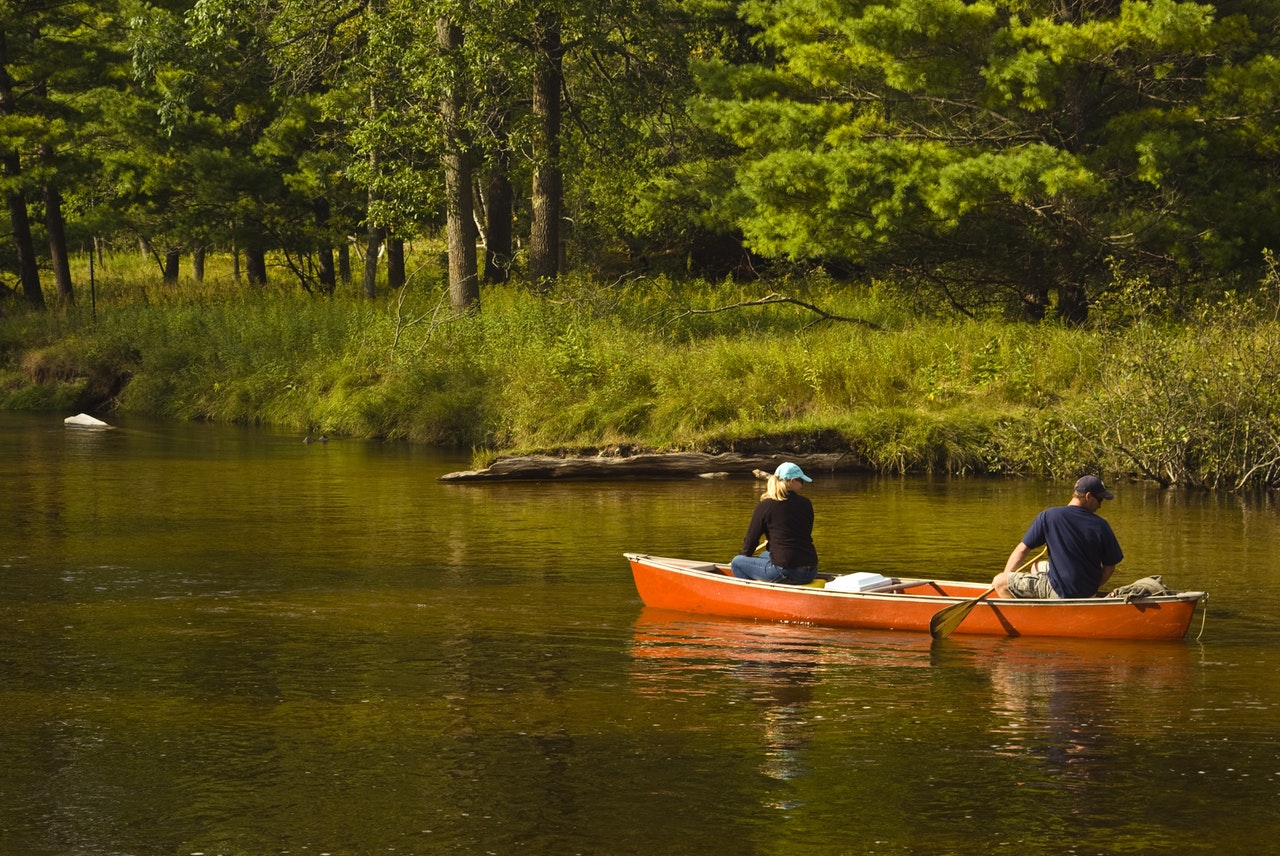 Photo credit: Destination Delaware County Ohio
Alum Creek State Park
Nestled next to nearly 3,500 acres of water, this state park offers swimming, boating, water skiing, picnicking, fishing, hiking trails, mountain-bike trails, bridle trails, disc golf and a dog park. Camping is also available.
3305 S. Old State Road, Delaware, OH 43015
Camping Phone: (740) 548-4039
parks.ohiodnr.gov/alumcreek

Columbus Zoo and Aquarium
Long ranked one of the best zoos in the U.S., the Columbus Zoo (actually located in Delaware County) is a destination easily worth a full day or even a full weekend visit. The holiday-season Wildlights are a must-see each year. 
4850 W. Powell Road, Powell, OH  43065
(800) 666-5397
www.columbuszoo.org

Delaware County Fair
The Delaware County Fair is more than just a classic, weeklong county fair with a midway, rides, great food and agricultural competitions. The festivities begin with the All Horse Parade (the biggest all-horse event east of the Mississippi) on the Sunday before the Fair opens. World-class harness horse racing is part of the Fair, culminating with The Little Brown Jug competition on Thursday of Fair week: It's part of the Triple Crown of harness horse racing. Everything takes place in September each year.
236 Pennsylvania Ave., Delaware, OH 43015
(740) 362-3851
www.delawarecountyfair.com

Delaware State Park
Located just north of the city of Delaware and next to 1,300 acres of water, this state park is a popular destination for camping. It also offers hiking trails, disc golf, boating, water skiing, picnicking, fishing. The park is also popular with bird watchers because of its location along major migratory routes.
5202 U.S. Route 23N, Delaware, OH 43015
Camping Phone: (740) 363-4561
parks.ohiodnr.gov/delaware
Highbanks MetroPark
One of the most popular parks in the MetroParks system (a public agency based in Columbus and Franklin County), Highbanks, in southern Delaware County, offers a sprawling 1,200 acres, filled with wooded trails, wide-open sports fields, a nature center, shelters and picnic areas, sledding hills, a Native American burial mound and many unique geological features.
9466 Columbus Pike (U.S. Route 23N), Lewis Center, OH 43035
(614) 906-3149
www.metroparks.net/parks-and-trails/highbanks

The Memorial Tournament
Founded by hometown hero and golf legend Jack Nicklaus, The Memorial Tournament is a major PGA (and Delaware County) event held each year in late May/early June at the Muirfield Village Golf Club.
5750 Memorial Drive, Dublin, OH 43017
Ticket-Purchase Phone: 614-889-6712
www.thememorialtournament.com

Preservation Parks
Delaware County's parks system currently includes nine parks, most of which offer trails, shelters and educational programming. A wide variety of habitats are being carefully preserved and offer an easily accessible escape from their suburban surroundings.
Parks HQ: 2656 Hogback Road, Sunbury, OH 43074
(740) 524-8600
www.preservationparks.com


Zoombezi Bay
Located next door to the Columbus Zoo and Aquarium, Zoombezi Bay is a water-sports park with a wide range of rides and activities, suited to many different abilities and ages. 
3550 W. Powell Road, Powell, OH  43065
(614) 724-3600
www.zoombezibay.com
---
What We're Known For: Shopping
Antiques. Designer clothing. Local artisan creations. Home furnishings from a certain Swedish manufacturer. Delaware County shopping runs the gamut from vintage to new and from local to global.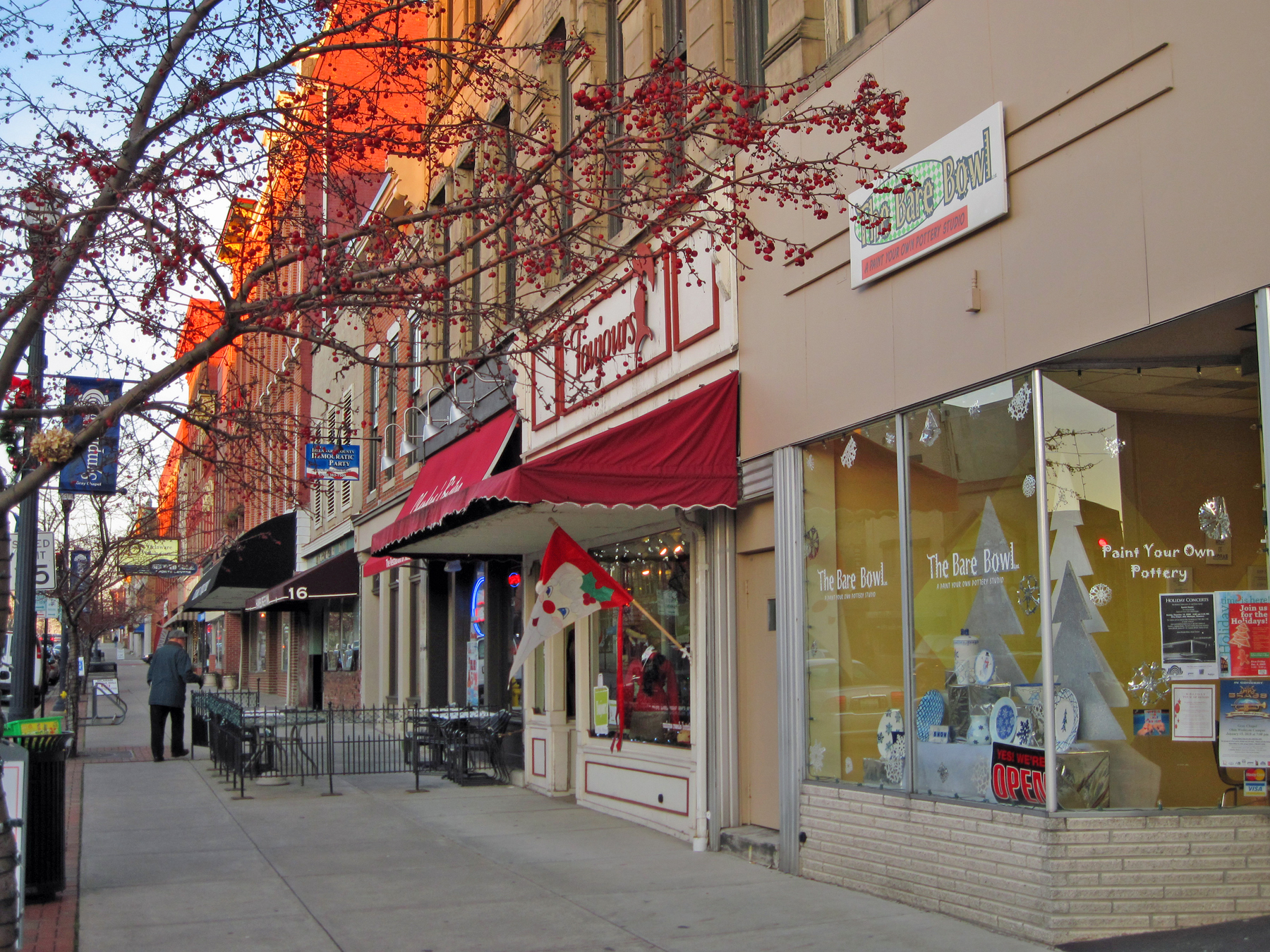 Photo credit: Destination Delaware County Ohio
Downtown Delaware
Quaint and cool, Delaware's downtown has become a popular destination in its own right with innovative shops, antique markets, microbreweries, a burgeoning arts district and great restaurants offering a variety of cuisines. First Friday evening events are a must-attend, as is the Delaware Arts Festival each May.
Central intersection: Sandusky and William streets, Delaware, OH 43015
www.delawareohio.net/welcome-delaware-visitors

Downtown Powell
Centered around the historic "Four Corners" area, downtown Powell is a hotbed of great restaurants, boutiques, antique stores and a village green that hosts events throughout the year, including the Powell Festival each June.
Central intersection: Liberty and Olentangy streets, Powell, OH 43065
www.powellchamber.com/list

IKEA Columbus
Delaware County became home to the second IKEA store in Ohio in 2017 and has been an immediate hit. Located just east of the Polaris Fashion Place mall, this Scandinavian home-furnishing superstore is part of a commercial district packed with great restaurants and hotels.
1900 IKEA Way, Columbus, OH 43240
(888) 888-4532
www.ikea.com/us/en/store/columbus
Polaris Fashion Place
Polaris Fashion Place and the surrounding district that has sprung up around it is one of the transforming indoor-shopping malls to take root in Central Ohio and continues to thrive and expand. The mall itself features anchors like Saks Fifth Avenue, Von Maur, Macy's, Sears and JCPenney, as well as dozens of other stores and restaurants.  
1500 Polaris Parkway, Columbus, OH 43240
(614) 846-1500
polarisfashionplace.com

Tanger Outlets | Columbus
Delaware County welcomed Tanger Outlets in 2016. This popular outlet destination features a mix of designer outlet stores and brand-name retailers in a spacious, pedestrian-friendly setting.
400 S. Wilson Road, Sunbury, OH 43074
(740) 965-2927
www.tangeroutlet.com/columbus
---
What We're Known For: Food
Delaware County has become a real destination for foodies. We have innovative chefs who love their proximity to fresh, local ingredients. We are also home to many different food cultures from around the world. And farmers markets? We were doing them before they were called farmers markets!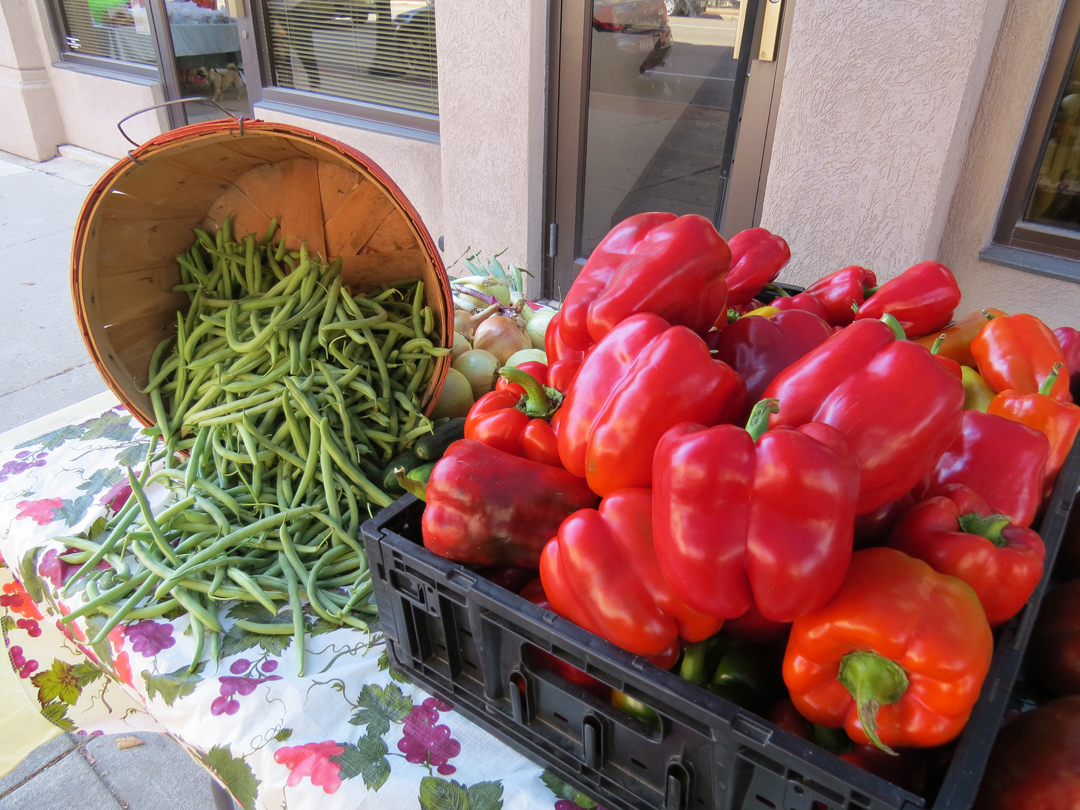 Photo credit: Destination Delaware County Ohio
Seasonal Farmers Markets (generally May/June through October, except where noted):
Delaware Farmers Market
Saturdays, 9:30 a.m.-12:30 p.m.
Location: Sandusky Street between William Street and Winter Street, Delaware, OH 43015
(740) 362-6050
www.mainstreetdelaware.com

Powell Farmers Market
Saturdays, 9 a.m.-12 noon
Location: 240 N. Liberty St., Powell, OH 43065
(614) 888-1090
www.powellchamber.com

Powell Winter Farmers Market
Saturdays, 10 a.m.-12 noon, November-April
Location: Powell Chamber of Commerce, 50 S. Liberty St., Suite 170, Powell, OH 43065
(614) 888-1090
www.powellchamber.com

Sunbury/Big Walnut Area Chamber of Commerce Farmers Market
Saturdays, 9 a.m.-12 noon
Location: Sunbury Square, 51 E. Cherry St., Sunbury, OH 43074
(740) 965-2860
www.sunburybigwalnutchamber.com
---
What We're Known For: Arts, Culture & History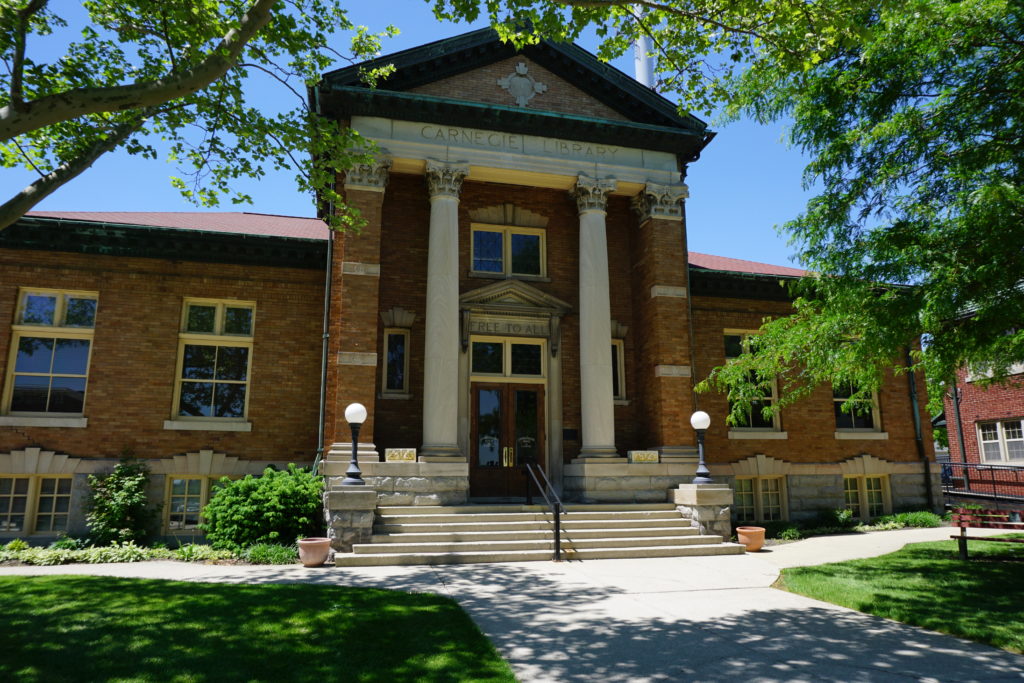 The Arts Castle
Also known as the Delaware County Cultural Arts Center, The Arts Castle is a cultural hub for the county with art exhibits, a gift shop featuring local artists, classes and workshops, and an annual arts fair every November.
190 W. Winter St., Delaware, OH 43015
(740) 369-2787
artscastle.org

Big Walnut Area Historical Society
Housed in the Myers Inn Museum on Sunbury Square, this organization helps preserve history in the eastern half of Delaware County.
45 S. Columbus St., Sunbury, OH 43074
info@bigwalnuthistory.org
www.bigwalnuthistory.org

Central Ohio Symphony
This beloved community orchestra performs throughout the year at Ohio Wesleyan's historic Gray Chapel and other locations in Delaware County. Its free annual Fourth of July Concert, performed on the grounds of Ohio Wesleyan University, pairs with the City of Delaware's fireworks display.
Administrative Office: 24 E. Winter St., Delaware, OH 43015
(740) 362-1799
www.centralohiosymphony.org

Delaware Arts Festival
Now in its fifth decade, the Delaware Arts Festival offers a juried arts fair, dozens of exhibitors, food trucks and live entertainment in the historic heart of Delaware. The festival takes place the third weekend in May each year.
Location: along Sandusky and Winter streets in downtown Delaware, OH 43015
Delaware Arts Festival

Delaware County Historical Society
This organization chronicles and preserves the rich history of the county with the Nash House Museum and Cryder Historical Research Center at 157 E. William St., just east of downtown Delaware, as well as the Meeker Homestead Museum south of Delaware at 2690 Stratford Road. 
(740) 369-3831
www.delawareohiohistory.org

Ohio Wesleyan University
Founded in 1842, Ohio Wesleyan University (or "Oh-woo," as it's better known locally) is a leading, small liberal-arts college in the heart of Delaware. Its arts, culture and sports programming are open to the public and often free of charge.
61 S. Sandusky St., Delaware, OH 43015
(740) 368-3314
www.owu.edu/calendars
Olentangy Indian Caverns
Open April through October, the caverns are a naturally formed series of underground caves deep beneath the earth's surface. They served as a safe space for the Native American tribe of Wyandots until the early 1800s.  The above-ground site includes a petting zoo and mini-golf.
1779 Home Road, Delaware, OH 43015
(740) 549-7917
https://olentangycaverns.com/ 

Perkins Observatory
Built in 1923, this beautiful and historic building (pictured above), located behind the Delaware Golf Club, is primarily used for research by Ohio Wesleyan University. But it is also the only observatory in Central Ohio to offer public programming. Buy tickets early because they go quickly! Use the map and directions on their website to navigate your way there.
(740) 363-1257
perkins.owu.edu

Powell Festival
Held in late June in the picturesque Village Green Park, this is the premier community celebration for the city of Powell, offering food, entertainment and fireworks.
47 Hall St., Powell, OH 43065
(614) 885-5380
festival.cityofpowell.us

Powell Liberty Historical Society
Housed in the Martin-Perry Homestead, built in 1889, the organization has preserved artifacts and historical records from one of the oldest but also fastest-growing communities in the state.
103 E. Olentangy St., Powell, OH 43065
(614) 848-6210
powellhistory.org

Ross Art Museum
The Richard M. Ross Art Museum is a revered part of the fine arts scene in Central Ohio with year-round exhibitions and programming.
60 S. Sandusky St., Delaware, OH 43015
(740) 368-3606
www.owu.edu/about/ross-art-museum

The Strand Theatre
Built in 1916, The Strand is one of the oldest, continuously operating movie houses in the U.S. This beautiful and historic building houses three screens, on which are shown first-run films. They're famous for their popcorn and low prices.
28 E. Winter St., Delaware, OH 43015
Movie Recording Line: (740) 363-4914
thestrandtheatre.net
---
Find Out More: Lodging
Lodging in northern half of Delaware County:
Baymont Inn & Suites
1720 Columbus Pike (U.S. Route 23N), Delaware, OH 43015
(740) 363-3510
Hampton Inn Columbus/Delaware I-71 North
7329 State Route 37 East, Sunbury, OH 43074
(740) 363-4700
Holiday Inn Express Sunbury-Columbus
7301 State Route 37 East, Sunbury, OH 43074
(740) 362-3036
Pacer Inn & Suites Motel
259 S. Sandusky St., Delaware, OH 43015
(740) 362-0050
Quality Inn
1251 Columbus Pike (U.S. Route 23N), Delaware, OH 43015
(740) 363-8869
Sondra's Bed and Breakfast
13695 Trenton Road, Sunbury, OH 43074
(740) 965-4519
Travel Inn Delaware
1001 U.S. Route 23N, Delaware, OH 43015
(740) 369-4421
The Winter Street Inn (Bed & Breakfast)
185 W. Winter St., Delaware, OH 43015
(740) 990-8695
Lodging in the southern half of Delaware County:
Cambria Hotel & Suites Columbus – Polaris
9100 Lyra Drive, Columbus, OH 43240
(614) 841-9100
Comfort Inn North/Polaris
8400 Lyra Drive, Columbus, OH 43240
(614) 791-9700
Candlewood Suites Polaris
8515 Lyra Drive, Columbus, OH 43240
(614) 436-6600
Extended Stay America – Columbus Polaris
8555 Lyra Drive, Columbus, OH 43240
(614) 431-5522
Fairfield Inn & Suites Columbus Polaris
9000 Worthington Road, Westerville, OH 43082
(614) 568-0770
Four Points by Sheraton Columbus – Polaris
8505 Pulsar Place, Columbus, OH 43240
(614) 844-5888
Hampton Inn & Suites Columbus Polaris
8411 Pulsar Place, Columbus, OH 43240
(614) 885-8400
Hilton Garden Inn Columbus/Polaris
8535 Lyra Drive, Columbus, OH 43240
(614) 846-8884
Hilton Columbus/Polaris
8700 Lyra Drive, Columbus, OH 43240
(614) 885-1600
Holiday Inn Express Polaris
8670 Orion Place, Columbus, OH 43240
(614) 781-6100
Homewood Suites by Hilton
2045 Polaris Parkway, Columbus, OH
(614) 396-5100
Nationwide Hotel & Conference Center
100 Green Meadows Drive South, Lewis Center, OH 43035
(614) 880-4300
Renaissance Columbus Westerville-Polaris Hotel
409 Altair Parkway, Westerville, OH 43082
(614) 882-6800
Residence Inn Columbus Polaris
8865 Lyra Drive, Columbus, OH 43240
(614) 436-3955
Staybridge Suites Columbus Polaris
9090 Lyra Drive, Columbus, OH 43240
(614) 880-9080