The public is invited to join local officials and the Delaware County Agricultural Society this Saturday, March 23, at 10 a.m. for the official groundbreaking for the Delaware County Fairground's new Agricultural Center. The Fairgrounds is located at 236 Pennsylvania Ave. in Delaware.
This 24,000-square-foot facility, scheduled to be completed in time for the 2020 Delaware County Fair, will replace the 8,800-square-foot Junior Fair Building. Demolition of that building also will begin as part of the groundbreaking ceremony Saturday. The new facility will be constructed in the same vicinity as the building to be demolished.
"The new Ag Center will become home to the Fair offices and the Agricultural Hall of Fame," said Sandy Kuhn, Delaware County Fair General Manager. "And during County Fairs, it will also house still exhibits for the Junior Fair."
The new facility will have a full heating and cooling system, restrooms, a 'warming' kitchen and seating space for up to 500 people, enabling it to be used year-round for events.
Westerville-based Harper Architectural Studio is designing the new facility. The cost of construction currently is estimated at about $3 million, Kuhn said, and is funded by the five-year, 3-percent bed tax approved by Delaware County voters in March 2016.
For more information about the Delaware County Fairgrounds, visit their website at: http://www.delawarecountyfair.com/.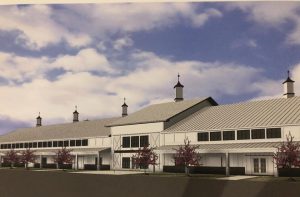 Architect's rendering of the new Delaware County Fairgrounds Agricultural Center